Advertise / Publicidad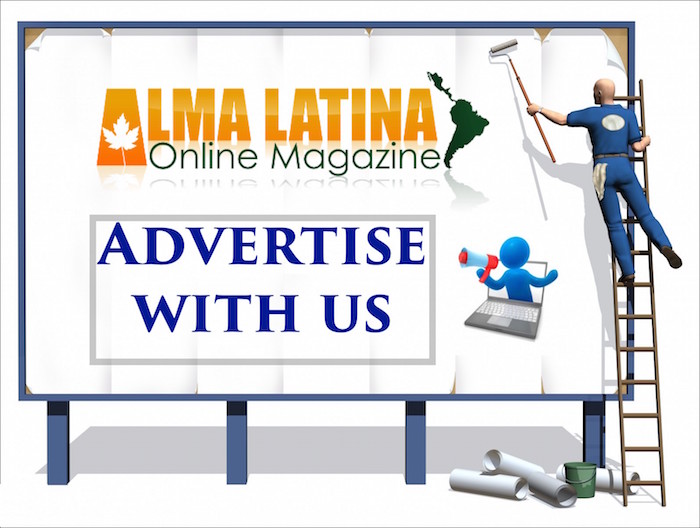 (Spanish below)
Alma Latina Online Magazine is currently running some very attractive advertising packages.  Click on the link to view our latest promotions: 2016 – ADVERTISING PACKAGES.
Advertise with us for one month and we will keep your ad running for one more month!
We also have long term advertising packages (6 months, 1 year or more) with a special discount.
We offer Top Banners (728×90 and 500×90 pixels), Side Widgets (300×250 and 300×500 pixels) and Footers (300×400 pixels) ad sizes with a link to any poster of your choosing or to your own website.  The ad is visible at all times, no matter how many pages our readers click on.  Our readership is rapidly increasing, so your ad can potentially be viewed by thousands of Spanish and English-speaking readers.
Take advantage of this offer because it's for a limited time only!  Don't wait!
Please contact us for more information: [email protected]
_________________________
Alma Latina Online Magazine está ofreciendo paquetes de publicidad super atractivos.  Haga click en el link para ver nuestros últimos paquetes promocionales: ESPECIALES DE PUBLICIDAD – 2016.
Haga publicidad con nosotros por un mes y mantendremos su anuncio por espacio de dos meses.  Tenemos también paquetes de publicidad a largo plazo (6 meses, 1 año y más) con mayores descuentos.
Ofrecemos un anuncios en los siguientes tamaños: Top Banners: 728×90 and 500×90 pixels; Side Widgets: 300×250 y 300×500 pixels y finalmente Footers: 300×400 pixels, con un link a cualquier poster de su preferencia ó a su propia página web.  El anuncio estará visible permanentemente, no importa cuantas páginas visiten nuestros lectores.  Las visitas diarias a nuestra página crecen a pasos gigantescos, de manera que su anuncio puede ser potentialmente visto por miles de lectores de habla hispana e inglesa.
Aproveche esta oferta porque solo estará disponible por tiempo limitado.  No espere!
Para cotizationes ó para más información, envíenos un correo electrónico a: [email protected]