Elect Alma Sandoval For Pickering City Council – Ward 1
Vote S A N D O V A L for City Councillor, Ward 1!
We're in the last stretch of the campaign! By now you've probably seen the sign below all around Pickering's Ward 1.
I just want to remind you that if you live in Pickering Ward 1 (or know someone who does) please remember Election Day is this coming Monday, January 25th. Don't forget to Vote! Hopefully for me 😉 Thank you in advance if you do: I promise to do this very important job to the best of my abilities and bring to it honesty, transparency and all the energy and passion I always put into everything I do. Best of luck to all of you, brave souls, who ran along with me on this campaign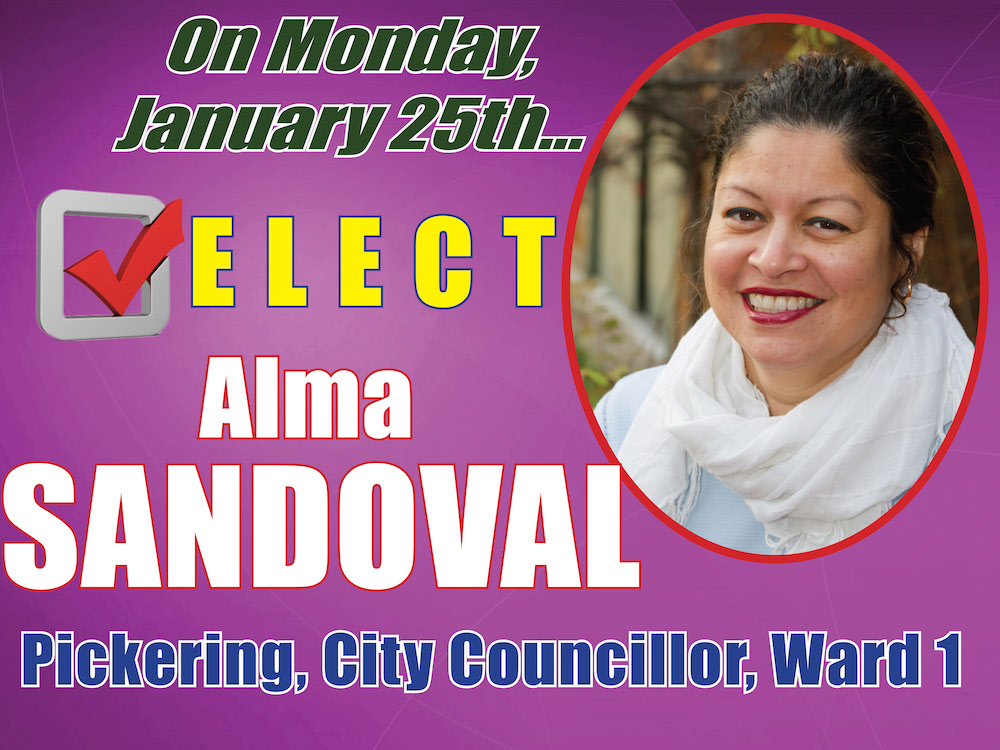 Rogers TV Durham is airing the full video "Candidates Messages" on their YouTube page: RogersTV YouTube Channel — "The Local Campaign: Pickering Ward 1 By-Election – Candidate Messages". Feel free to check out what the other 11 candidates have to say. It was a great opportunity and hopefully a lot of people watch not just my clip, but everyone else's and they make a more informed decision when voting. Monday, January 25th, Ward 1 folks!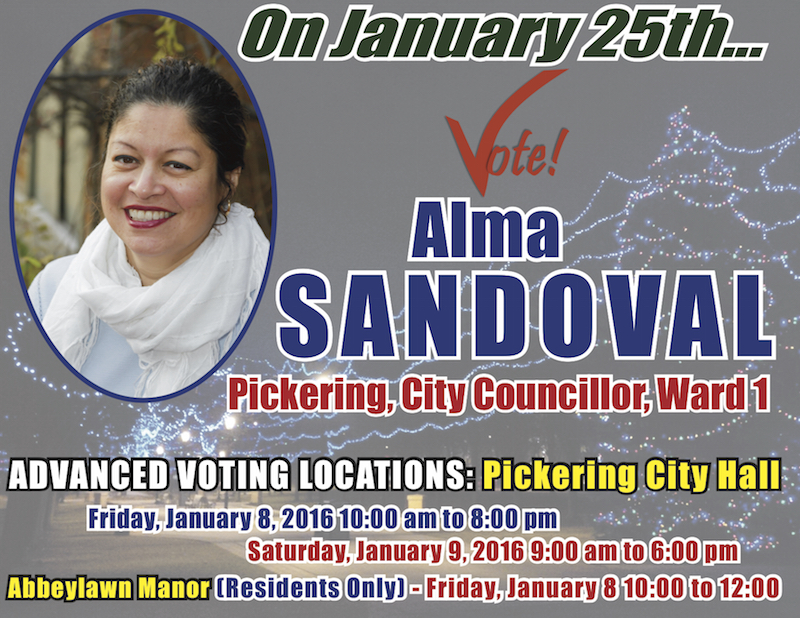 Alma Sandoval Betancourth – BIO:
Alma Sandoval Betancourth arrived in Canada from war-torn Nicaragua as a refugee at age 18 with quite literally a small bag of personal belongings, a little English and a dream. Within 9 years of her arrival she had completed a BA in Political Science/Communications at York University and a Post-Graduate Diploma in Journalism at Humber College, all the while managing to balance parenthood, full-time school and part time work in order to complete her education. Presently she's a couple of credits short of completing a Business Management certificate from Ryerson University's Raymond Chang School of Continuing Education.
Alma and her family (husband Alex, and sons Alex Fabián and Jalen Gabriel) have resided in Pickering since 2003. She has worked for Bell Media for 14 years and concurrently runs Alma Latina Online Magazine, the bilingual (Spanish/English) online publication she founded and publishes. Alma has been involved with the Durham Region community in many capacities: as a Treasurer for Durham Region's Hispanic Canadian Alliance of Ontario (AHCO), as a member of Pickering's Advisory Committee on Diversity and most recently she has joined the Community Partners in Diversity Committee with the Region of Durham's "Immigration Portal" and also the newly-formed Cultural Advisory Committee with the City of Pickering. Alma is also a member of the Ajax-Pickering Board of Trade.
Alma is a Zumba-cheesecake-comedy-loving bookworm who is passionate about community work and a tireless advocate of music and the arts. She hopes to earn the trust and support of the residents of Ward 1 in order to bring a strong female and diverse voice to Pickering City Council. She is really excited about the opportunity to work together with Pickering City Councillors to make our city an even better place to live, work and play and to forge our path to a thriving, healthier and more united community for our future generations.
---
WHAT OTHERS ARE SAYING ABOUT ALMA:
Linda Raponi
Ward 1 Resident & Small Business Owner, Pickering
As a resident raising a family in Pickering for over two decades and a small business owner, it is without a doubt that Alma is the most qualified person running for City Councillor in Ward 1.  She clearly deserves a strong community support bringing integrity and trust with her willingness to examine issues and listen closely to the public's questions and concerns. Alma's excellent credentials gives her a comprehensive grasp of our city, services, infrastructure and community needs. Alma exemplifies honesty, fairness, and thoughtfulness and will use these qualities to create a better place for residents to live and businesses to thrive.
I support Alma for a number of reasons as she can be trusted to keep her word and her insights sets her far apart.  She is straightforward and open as to her actions and intentions, displaying goodwill toward all citizens in our community. Above all, Alma understands our needs and will support programs that reflect our priorities with a strong grasp of local issues facing Pickering.
Alma's strong history of grassroots in both the Hispanic and Canadian community are precisely what this multicultural city needs.  Her volunteer work attests to her genuine interest in our community.
Alma confidently gets my endorsement and I encourage fellow Ward 1 residents to join me in electing her.  Alma is the most qualified candidate to make this community better for all. She is the leader we need to represent what's important for Ward 1 residents and is a clear choice who deserves your vote.
---
Maria Paz Cardone, Former President – Hispanic Canadian Alliance of Ontario (AHCO)
It is my pleasure to support Alma Sandoval in her goal to become a Council Member for the city of Pickering.
I have known Alma since 2007 when we both were members of the board of the Hispanic Canadian Alliance of Ontario. I was the President of the organization for two years and Alma was the Treasurer, a role that she performed with high professionalism, responsibility and transparency.
Alma is honest, enthusiastic, pragmatic and a hard worker with strong communication and problem solving skills. She is also a committed and active member of the community, with solid values of inclusiveness and common welfare.
I strongly believe that Alma will be an excellent member of the City of Pickering's Council, representing our diverse community with passion and dedication.
---
Mika Midolo, CP24Breakfast/CP24
Traffic/Transit/Weather Specialist
Beyond a doubt, I think that Alma Sandoval Betancourth is the most qualified person to run for Pickering's Ward 1, City Councillor position. As a mother and wife who has raised her family in Pickering for over two decades and a businesswoman who owns her own business, Alma has done it all and knows how wonderful Pickering is and continues to grow. In all she does, Alma exemplifies honesty, fairness, and thoughtfulness. Alma will use those qualities to maintain the integrity of Pickering and also to create an even better way of life for Pickering's residents and for Pickering's business' to thrive.
I put my support behind Alma because I know she can be trusted and stands behind her word and her mature understanding sets her above and beyond from others. She is very genuine and open and she always displays goodwill towards all.  She is always the first person to help out others when in need. Above all, Alma understands our needs and will support programs that reflect our priorities with a strong grasp of local issues facing Pickering
Alma's strong history and understanding in both the Hispanic, Canadian, and Pickering community, are exactly what this multicultural city needs.  Her volunteer work confirm her sincere interest in our community.
With proud enthusiasm, as a long time Pickering resident for almost 3 decades, and a former Pickering Library Board Member,  I confidently support Alma Sandoval Betancourth as Pickering City Councillor for Ward 1.
---
Clemel Estrada, Pickering (Ward 1) Resident
It has been 12 years since I have known Alma Sandoval, I am so excited for her to enter the race for City Councillor.
The city of Pickering needs someone like Alma, someone that dedicates her time to make our city the best place to live in Ontario.
Alma is one of the most disciplined person I've ever known. Her ability to work efficiently under stressful conditions and nerve-wracking deadlines speaks volumes about her hard work, determination, and composed demeanour. She volunteered as a treasurer in the Hispanic Alliance and demonstrated excellent leadership skills and morale.
I would also like to add that Alma is a wonderful mom, wife, a compassionate human being with praiseworthy perseverance and ambition. I believe that she is a deserving candidate for the City councillor position and would prove to be an indispensable asset for the City of Pickering.
I can't wait to help her through this campaign.
---
Rossana Figueroa, Former Board Member of AHCO
Alma is a great communicator and has used her skills to keep the Latin community in Durham connected and informed through her online magazine Alma Latina. She is a person of integrity and strong family and professional values and I was very excited when I heard that she will be running for Pickering City Councillor. I fully support her nomination and know she will represent well the Pickering community.
---